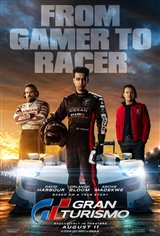 Gran Turismo: Based on a True Story
| 22 Reviews
Write a Review
In Theaters: August 11, 2023
On DVD/Blu-ray: November 7, 2023
4.39/5
Based on 56 votes and 22 reviews.
Please rate between 1 to 5 stars
Showing 1-10 of 22 reviews
November 9, 2023
This is the kind of movie that manipulates youth to do what they did, which always ends in a bad way. Find a better movie to take your kids to that will motivate them in a good way.
November 6, 2023
I would go see this movie again and I'm not even into car racing! Based on a true story and very entertaining!
September 20, 2023
1st of all, I'm not into cars or racing or gaming at all. I saw good reviews here, and it happened to be cheap Tuesday night at the movies. I am very impressed with this story. I love the insight, the intuition, the courage, the guts this kid had to carry on. His mentor/coach was awesome and funny and moving. I love when men allow themselves to be vulnerable and real, and show emotion. And I love a father/son redemption story. A must see - more than once!
September 20, 2023
It shows what a family can go through when one child has a dream he believes in and how friendship is there for him. a lot of emotion is shown where it's hard to see men cry. Love the accent - The cars in the movie are amazing. I love how they show the real racer at the end. Good movie to see.
September 17, 2023
Thrilling and wow good story. Best acting you feel the emotions good and sad. Loved the cars . Edge of seat movie. Must see 😀
September 11, 2023
It was a heartwarming story with great race car driving. What's not to like. The person who said that you have to be an idiot to like this movie, is the idiot for not liking it.
September 6, 2023
Actors and visual effects and action were phenomenally superb!
September 4, 2023
Great connections with emotions the actors and the relationship at end with his dad was tear jerker. Great motivational and exciting racing overall well worth it
September 2, 2023
Not knowing anything about this kind of gaming, it was very interesting to see the impact this kind of simulation has on the public. The acting was really really good, no idea of the lead, never heard of him however he did a fantastic job! The movie was predictable however loved all the racing scenes as you definitely feel like you are riding in the car which was cool
August 31, 2023
Fantastic movie. I couldn't care less about racing so not sure if I would like it, but I loved it.