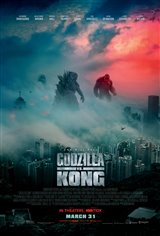 Godzilla vs. Kong
| 53 Reviews
Write a Review
In Theaters: March 31, 2021
On DVD/Blu-ray: June 15, 2021
3.23/5
Based on 160 votes and 53 reviews.
Please rate between 1 to 5 stars
Showing 1-10 of 53 reviews
June 20, 2021
A movie that kills brain cells and wipes out all memory of grammar and punctuation
June 17, 2021
thank god regal / ua back in business in no better forestave, mariners harbour..original, saw the movie 1965on richmond ave outdoor movie theater a stones throw away. know the turk completely. thankyou staff and nyron speciale. this time around45 years later.. the focus want defined and focused on the story. the movie revolved around the little girl..which takesthe focus off the classic epic..raymond burr added to the saga in the original..godzilla was an outcrop of the defeat and the decimation of the japanese empire a decade later.hero shema ..naga saki, hero hito.. although alot of window display and dressing..the new one doesnt lay a candle..but after following trailingand devouring these morsels from rodans twins -to megalon and the sister act two..it doentapologize for the nuclear accident returns and it should promote the 21 olympics...i cant give hi praise but better than the last two, bomza eyes..
June 9, 2021
I really liked this movie, I was worried that there would only be 1 fight scene that only lasted a few minutes at most, but I was glad I went to go see it. The storylines were good! I don't personally feel like you have to see the other movies to understand this one.
May 30, 2021
Loved everything!!!!
May 18, 2021
Harumbe is on Kong's side! I do wish Penny Pax was in this!
May 17, 2021
Rap music score, no thanks
May 11, 2021
Best Godzilla movie and 2nd best Kong movie in my opinion...overall excellent
April 29, 2021
Admittedly, the sequel sounds appealing, it's just too bad we had to sit through this brainless spoof to get it.
April 28, 2021
Wowzers! If you enjoyed this movie you're going to LOVE what happens next: While still in the planning stages, the ingenious K&G sequel will take Kong back to his roots and show us the events that transformed the thousand foot monkey into the plucky 30ft. brawler kidnapped from his Skull Island home by an overzealous Carl Denham and put on display as a sideshow attraction in the Big Apple. For the first time, we learn the remarkable matchmaking role Godzilla played in setting Kong up with the beautiful Ann Darrow, and we witness him standing at Kong's side, fulfilling the time-honoured tradition of "best man" during a most spectacular wedding scene. When the crafty Denham captures the now 30ft. "8th Wonder" and makes for America, Godzilla follows in swift pursuit and becomes Kong's protector in a strange and violent new world called "civilization." A life and death showdown looms when Godzilla picks up Kong and his diminutive bride and deposits them on the top of the Empire State Building, as a locked and loaded squadron of America's finest closes in to shoot the happy couple down...
April 27, 2021
A must on the small screen. .05/5