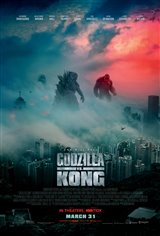 3.47/5
Based on 80 votes and 20 reviews.
Please rate between 1 to 5 stars
Showing 1-10 of 20 reviews
April 10, 2021
Remarkably, they've made a movie that's WORSE than King Kong Vs. Godzilla.
April 8, 2021
Almost no cliché's I love it when a movie does that they surprised me at the end overall just go and see it you'll enjoy.
April 7, 2021
Took the grandkids and a neighbor kid and everyone loved it, including me. Have long been a Godzilla and King Kong fan. Well done!
April 2, 2021
This film could be avoided to save you from over-spending your money on a film which was grainy, computerized to the max and just plain terrible story line. For such a look forwarded to movie - was ready to fall asleep and go home. Glad it was over with.
April 2, 2021
Blockbuster definitely. Very amusing and surprise ending
April 2, 2021
Watched every Godzilla, & King kong movie made. The Classic match yrs ago was a huge hit & a great battle. This rewrite & additional Titans, splicing storylines was a great idea. Both iconic Kings look great. Do not stop here, more to come and a wide range of additional Titans to be seen. Love what wingards work, now let's see what's to come, but bring them sooner and longer show time. Lastly, let's see The recreation and return of Ultraman, Jonny Sokko, & Gamara.
April 2, 2021
This movie is for the same people who like to see animals fighting. Dogs, roosters. Shame on Hollywood for making this tripe and shame on you if you glorify violence.
April 2, 2021
movie was trash.... monkey no eat banana
April 1, 2021
Fun Kaiju movie
April 1, 2021
Amazing battle.