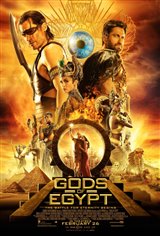 Gods of Egypt
24 Reviews
|
Write a Review
In Theaters: February 26, 2016
3.27/5
Based on 78 votes and 24 reviews.
36.36%

18.18%

9.09%

9.09%

27.27%
Please rate between 1 to 5 stars
Showing 1-10 of 24 reviews
July 9, 2017
Awesome movie, loved the storyline and the characters, however, found Butler as an odd choice to cast simply due to his accent, lol. Would love to see perhaps a sequel or a spin off
May 31, 2016
Loved this movie, was fairly faithful to the Gods of Egypt, was funny, entertaining, with good action and good Characters. It was every thing I wanted from a movie.
May 25, 2016
Had very low expectations for this movie....it was quite good!! Totally worth watching!
April 13, 2016
Luv fantasmagorical flix. For what it was, it was fairly good. Lotsa gr8 effects and there was Redemption! Bad guy loses, good guy wins! Brenton Thwaites was chosen well. And of course Gerry Butler, played a good bad guy!
April 8, 2016
it was good i like the sphinx
April 1, 2016
The people complaining about the actors being white are racist. White people will only put up with it for so long.
March 15, 2016
Despicable casting, the movie is called Gods of Egypt but everyone is white. Its the equivalent to having a movie on ancient viking mythology and having a black cast.
March 12, 2016
good fun
March 11, 2016
Eh to much computer but great story
March 10, 2016
Appalling movie with terrible CGI.