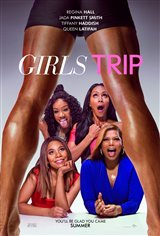 Girls Trip
| 139 Reviews
Write a Review
In Theaters: July 21, 2017
On DVD/Blu-ray: October 17, 2017
R | Comedy | 2h 2m
4.33/5
Based on 656 votes and 139 reviews.
Please rate between 1 to 5 stars
Showing 1-10 of 139 reviews
October 25, 2017
Sooo bad - the acting bad / script bad the whole movie bad - I could have acted and wrote the script and it would have been 100 times better- come on people do they really think we want to see this
October 9, 2017
TRULY EXCEPTIONAL MOVIE !!!! F U N N Y !!!
September 28, 2017
Awesome movie!! It is best to see it with friends!!!
September 17, 2017
Very funny!! Enjoyed it.
September 12, 2017
Great movie-hope there's a sequel.
September 8, 2017
Far too much profanity and the storyline was definitely a negative image of black women.
September 6, 2017
Crude, lewd and phenomenally not funny. Judge from the picture - is this funny in some f'd up way??? Second worst movie l ever saw after Cloud Atlas. At least you could understand this one- but that just left you asking the question WHY?
September 6, 2017
Sat stone-faced throughout the movie hoping it would end soon so l could sneak into another movie after enduring this lifeless corpse of a movie. .but it kept going on and on and on like some slow torture. If you'll laugh at someone TRYING to be funny, then have fun. Any normal person will feel insulted and duped into seeing this crap. Judge for yourself, but don't say you weren't warned.
September 5, 2017
The movie was hilarious, funny exciting loved it
August 31, 2017
This movie had me in tears from laughing so hard. If it is not funny to you then see your Dr or Psychologist because your "funny bone" or Psyche is out of order!