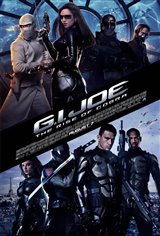 G.I. Joe: The Rise of Cobra
194 Reviews
|
Write a Review
In Theaters: August 7, 2009
3.7/5
Based on 4646 votes and 194 reviews.
45.80%

15.62%

17.11%

5.53%

15.94%
Please rate between 1 to 5 stars
Showing 1-10 of 194 reviews
March 15, 2013
G.I. Joe isn't even in this movie! What a gip!
May 17, 2012
i like sgt stone any one who does not agree will die.
May 17, 2012
liked it! liked snake eyes
June 21, 2010
This movie was amazing! Great stunts and the action never lets up! I understand there's now a "Big Jim" movie in the works too, and I'll be first in line to see it!
January 14, 2010
good movie but half way threw the acting was way off
December 15, 2009
Brutal movie, just brutal. Sinking ice and fiery explosions underwater? Are you kidding me? Whats next a world with no gravity or maybe flying turtles? 0/5. Worse than Transformers 2 and that's saying a lot.
December 15, 2009
Terrible Movie good special effects Channing Tatum is a terrible actor
November 28, 2009
The only good part about the movie... one word... Sienna!
November 23, 2009
Well after watching this movie I can say I can no longer rely on the general publics ratings. This movie was TERRIBLE. I honestly don't know what people voting 5 stars are thinking. This is just computer generated action with no storyline. There were so many errors I honestly cant understand how an editor, consultant or screen writer let it actually into the movie. They've bastardized the G.I. Joe franchise.
November 21, 2009
some cgi was pretty bad. But all in all not a bad show. 4 stars.