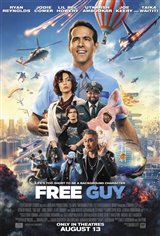 Free Guy
| 41 Reviews
Write a Review
In Theaters: August 13, 2021
On DVD/Blu-ray: October 12, 2021
3.91/5
Based on 108 votes and 41 reviews.
Please rate between 1 to 5 stars
Showing 1-10 of 41 reviews
April 3, 2022
Rayn is cool. movie is not that good
March 12, 2022
Ryan is better than this,
February 20, 2022
Absolutely entertaining and funny movie! Ryan Reynolds was fabulous as the sensitive AI character who brings empathy and emotion to the story. Loved it from beginning to end!
October 18, 2021
I enjoyed this movie. Laughed a lot.
October 13, 2021
Really enjoyed it
October 7, 2021
I really enjoyed this movie from start to end. It made me laugh and lifted my spirits. I'm surprised at the poor reviews but people have different tastes. Ryan Reynolds was fantastic and I look forward to seeing him in more movies.
October 2, 2021
Jesus stuff, not real
September 27, 2021
I do not play video games like the one in the movie (no vid games since Super NES! Except Mario Kart Wii) so it took me a bit to figure out what NPC was or some of the techno language but I got it. Took me a bit to figure out how suddenly Ryan Reynolds basically clued in and came alive and they explained it well enough. If I could figure it out, you can too. If you play in these online worlds, you will certainly get it and then some. I gotta say, Channing Tatum stole the movie. I laughed my butt off when his player was yelling at his mom. FYI you will see the Deadpool and Avengers Easter Eggs if you look. It was funny and I think there's so much more I could have liked, but I was busy figuring it out. Taika Waititi was awesome as an over the top eccentric billionaire gamer!!!
September 22, 2021
After reading a few of the reviews, I knew I had to post one myself. If you're giving this movie one star because you're offended about God being called a troll in the movie, the issue isn't the movie, it's you. Some people (or rather religious nutcases) really need to get over themselves! Too bad it isn't possible to reply to reviews, nor down vote them. Will this movie be everyone's cup of tea? Of course not. No movie ever is. But to give it a single star because of a single comment shows just how mentally/emotionally unstable some people are. I'd give the movie 4-5 stars. Very entertaining. If you're a religious zealot though, don't watch it. You might have your precious little ego offended. lol
September 21, 2021
What liked about this movie is that the story line while being full of references to GTA was awesome it is phenomenal and a sweet ending