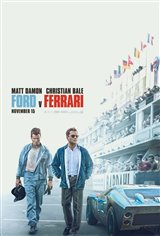 Ford v Ferrari
| 156 Reviews
Write a Review
In Theaters: November 15, 2019
On DVD/Blu-ray: February 11, 2020
4.67/5
Based on 1028 votes and 156 reviews.
Please rate between 1 to 5 stars
Showing 1-10 of 156 reviews
March 16, 2020
that's how they used to make movies
March 16, 2020
Enjoyed it from beginning to end. Perhaps the best movie that Matt Damon and Christian Bale have done far as I am concerned . Liked it even better than the excellent car racing movie Rush from 2013, The racing scenes kept me in suspense .Hardly any bad language which was refreshing . Like the humor in it as well .
March 11, 2020
Great movie
March 2, 2020
This will be the second time I've seen it. It's that good!!!!!
March 2, 2020
MISLEADING MARKETING! When hear a title that's like "this car versus that car" you'd think you're walking into a Transformers movie! Well I did at least. I thought it's cool that Batman and Matthew Damon are in this but when are the cars going to start fighting? When they finally got to that last race and the cars start crashing into each other I thought, finally they're going to get angry and transform! Fordimus vs Ferraritron. But nope just boring ol' Cars! At least in the movie Cars the cars can talk. Anyway this director is clearly no Michael Bay.
March 1, 2020
Action packed quotable lines at every corner from beginning to end. The only movie I've ever watched in theatres 10 times & counting, I have to say it rivals 1977 STAR WARS for must watch again & again.
February 25, 2020
Loved Christan Bales driving no matter how the movie was edited.
February 23, 2020
For all the hype I was disappointed. Christian Bale's attempt at looking like he was really driving was a joke. I mean all we really got was a close-up of his face and of him shifting (if it was even him doing the shifting) The overall movie was okay as the facts are true and a part of racing history. Just needed more. Christian Bale pretending he is driving is just not believable to me at all. Did he not even get behind the wheel of a video game to see how to really drive.
February 22, 2020
This movie needs to remain in theaters permanently so there is a "go to" movie when the majority of all of movies being shown are unwatchable. No idea why Christian Bale was not nominated for an Oscar. Matt Damon was perfect for his part.
February 16, 2020
Very good film. Story, acting and details are absolute fantastic. To see a 2nd time.