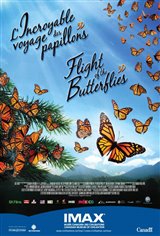 Flight of the Butterflies
8 Reviews
|
Write a Review
In Theaters: October 1, 2012
G | Documentary, Family | 45m
4.33/5
Based on 24 votes and 8 reviews.
58.33%

33.33%

0.00%

0.00%

8.33%
Please rate between 1 to 5 stars
Showing 1-8 of 8 reviews
November 18, 2013
What can I say but nothing more than Beautiful.
November 12, 2013
Great movie!
November 5, 2013
It is a scientific adventure movie at it's very best! Dr. Fred Urquhart took close to 40 years to discover the monarch butterflies' secret hideaway. The movie showed the most incredible migration on Earth. The production team filmed hundreds of millions of monarchs in their remote sanctuaries in Mexico. Following their migratory routes from Canada, across the U.S. and into Mexico. This movie gives you the feeling that you are part of the most spectacular migration experience.
November 1, 2013
Truly a remarkable film about the journey of the butterfly, i was in awe!
October 31, 2013
Very educating, but also entertaining masterpiece.
October 30, 2013
Great documentary and very fascinating.
October 29, 2013
Excellent IMAX film!
September 27, 2013
It is a beautiful movie!! Everybody should see it