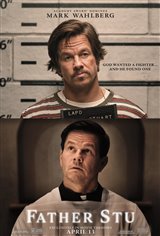 Father Stu
| 43 Reviews
Write a Review
In Theaters: April 13, 2022
On DVD/Blu-ray: June 14, 2022
R | Drama | 2h 4m
4.69/5
Based on 124 votes and 43 reviews.
Please rate between 1 to 5 stars
Showing 1-10 of 43 reviews
May 21, 2022
The acting was superb. A true story, and well done. One of the best movies I 've ever seen. helping to show God's perspective. .
May 8, 2022
I loved the movie , I loved the story and I admire all the actors that made it, these were the people for the job. I loved em all.. the story, don't put off till tomorrow what you can do today.
May 6, 2022
Just the kind of movie that we all need in this day and age.
May 5, 2022
Fr. Stu learned to love the Lord more each day benefiting those he knew as well as those he only just met.
May 5, 2022
Loved the realistic portrayal of this man and his journey to the Lord in holiness. God used all that he had been through to lead others to Him. Inspiring
May 2, 2022
Based on a true story, very touching and full of emotion.
May 2, 2022
Absoluetly the best movie I have seen in a very long time!!!!! Hope this takes all the awards out there!! Mark did a great Job & I have new respect for his acting!! Highly suggest everyone go see this movie!!! I will be going again & again & again. Obviously I LOVED this Movie.!!!!!
May 1, 2022
while it was hard to hear some of Mark's lines the overall story was beautiful and left me feeling hopeful that viewers will see how God has a plan for each and everyone of us. More importantly, Hollywood walked away from the story a true story -- quite revealing as to Hollywood's motives
April 29, 2022
THIS MOVIE SPEAKS TO THE HEART. FAITH IN GOD IS A POWERFUL FORCE THAT SHEDS DYSFUNCTION AND SINFULNESS, AND BRINGS ABOUT SPIRITUAL HEALING AND REDEMPTION. THIRTEEN YEARS AGO i WAS LAYING IN THE HOSPITAL CONNECTED TO 7 MACHINES AND CLOSE TO DEATH, I WAS AS HELPLESS AS A BIRD WITHOUT HIS WINGS. BUT THE PRAYERS I RECEIVED AND THE VISITS FROM MY FAMILY MEMBERS HELPED ME GET MY STRENGTH BACK. AND MY FAITH IN GOD HELPED ME RETURN TO MY LIFE. WITHOUT GOD AND THE HEART SURGEON I WOULD HAVE BEEN A VERY DEAD BIRD. THIS MOVIE IS HARDHITTING AND RIVETING. FATHER STU HUMBLY FOUND HEAVEN ON EARTH FLAT ON HIS BACK IN FRONT OF THE CROSS.OF JESUS CHRIST, HIS SAVIOR..