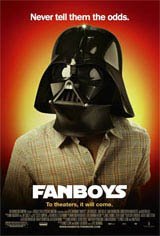 Fanboys
6 Reviews
|
Write a Review
In Theaters: February 6, 2009
4.09/5
Based on 518 votes and 6 reviews.
60.71%

16.07%

3.57%

10.71%

8.93%
Please rate between 1 to 5 stars
Showing 1-6 of 6 reviews
July 28, 2010
This is a really fun, sweet movie. I don't usually like road trip movies much, but this one really appealed to me. I guess I have respect for Star Wars nerds (especially when they're up against Trekkies. *shudders* I have a phobia) and I myself speak in dorky film references, which endeared all these characters to me. The dialogue and visual gags all hit their marks, and the story, while simple, worked really really well. I love how the writers tiptoed around the fact that Phantom Menace was lousy while keeping their respect for the saga intact. I'd see this again. I really like it.
June 27, 2009
lol, too funny! A feel good movie, with a bunch of good laughs!
June 12, 2009
5 stars but I felt the movie should have been made 7-8 years ago before episode 2 came out. I did laugh lots and it was a great movie just a little ill timed.
May 27, 2009
this movie is a must see for any starwars fan!! I laughed so much all the way thru. 5 stars.
April 5, 2009
A Star Wars Fan will rate this movie 5 out of 5 as it is hilarious and full of witty star wars references....for someone who is not a Star Wars Fan the movie is still a riot and a 4 or 4.5 out of 5! It is the relationship between the characters and their actions which make the movie so enjoyable!
February 6, 2009
very funny and full of suprises