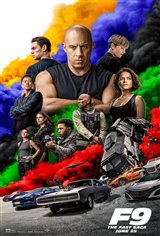 F9
| 43 Reviews
Write a Review
In Theaters: June 25, 2021
On DVD/Blu-ray: September 21, 2021
2.27/5
Based on 638 votes and 43 reviews.
Please rate between 1 to 5 stars
Showing 1-10 of 43 reviews
September 8, 2021
This movie is ridiculous and has gone so far off course from the original Vin get off your high horse, I give you credit for making it big but come on 1st a quarter mile race only last seconds and its never to early to hit the nitrous button but now your saving people with cars in space.
September 4, 2021
It's an amazing movie. Some of the bits are awesome in the movie.
August 14, 2021
For all the people who rate this piece of trash higher than 1 star....what is wrong with you? The fact that the story is weak and the writing is poor. The stunts and action seems are so far fetched and ridiculous. Case in point, a 1980's lemon of sports car (fiero) is made into a space ship. It is used to crash into a satellite and escapes without any damage. Then there's Dom, he seems to always want to martyr himself. To bad he didn't, at least then this movie might have been a little sympathetic. Instead it is just PATHETIC. If you have a brain don't waist your money...wish I didn't.
August 14, 2021
Aren't we all just blinded by Vin Diesel's chrome dome? I loved the car chase that started in the dragon's intestines and ended on Saturn. And those magic magnets were cool.
August 11, 2021
The acting is horrible. The story is completely boring and stupid. The stunts are outrageous and not even close to being believable. This so called movie is probably making Paul Walker role over in his grave. Wish I could unsee it.
August 11, 2021
I loved the part where the car jumped over the moon.
August 9, 2021
If you have less than 1 brain cell, you will enjoy this mindless movie. 2 or more brain cells and you will see how extremely stupid this movie is.
August 9, 2021
AWESOME ! ! ! ! ! ! ! ! !
August 1, 2021
100% DISAPPOINTED!!!!!! Glad I went on Tues. Sure wouldn't have wanted to pay full price for this disaster. They had years to come up with a good script, the must've all got covid. Trying to bury a horrible script with outrageous special effects and unrealistic stunts is just LAZY! If I could give it less than 1 star...well that would still be more than it deserves.
August 1, 2021
Half of this movies was missing person search for team crew and rest of the story doesnt make any sense in stunt and stories.