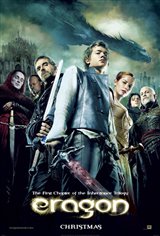 Eragon
185 Reviews
|
Write a Review
In Theaters: December 15, 2006
3.88/5
Based on 3893 votes and 185 reviews.
53.74%

11.90%

16.14%

4.78%

13.44%
Please rate between 1 to 5 stars
Showing 1-10 of 185 reviews
July 27, 2016
To die for.I even watched it like ten times and wished had my own dragon too
May 25, 2015
A full five stars i rate this movie Eragon its brilliant after all look who stars in this movie :)
October 7, 2011
So much better than any of the Harry Potter movies. In fact, it's better than all the Potter movies combined!
October 7, 2011
Garbage movie....tried to be Harry Potter, but it wasn't. Not even close. A waste of time.
July 9, 2010
not done well enough, so no more movies in this franchise :(
April 14, 2010
this was a very good movie. i have read the books and yes they did leave a lot out but thats what movies are like. if everything was in it we would be watching the same stuff for 3 hours. very good acting, great effects, and some nice action. quit getting mad at every part they miss and relax and enjoy the movie. durza is really freaky
June 3, 2009
terrible the movie was just terrible they completely messed up the story line i hope they dont attempt to make eldest
March 1, 2009
It is a good movie and all except the the writer should have followed the book more. Also Arya is supposed to have black hair. Another is the way brom dies. But all around its a good movie.
February 10, 2009
this movir is very good
December 30, 2008
Masterpiece.