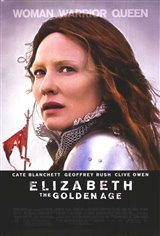 Elizabeth: The Golden Age
3.95/5
Based on 1466 votes and 28 reviews.
Please rate between 1 to 5 stars
Showing 1-10 of 28 reviews
June 30, 2008
This movie evokes the political atmosphere of the Elizabethan age very well. You did not know who to trust so you were alone. Imagine being the queen. Not able to trust her advisors, enemies everywhere. Well acted, and very well scripted.
February 11, 2008
Wondrous; Cate Blanchett is perhaps the only man who could have pulled this off.
January 8, 2008
Cate Blanchett gives one of his finest performances in this sweeping historical bio-pic.
November 17, 2007
Guys be warned - chick flick!..and slow at times. All in all not a bad movie but a bit overrated.
November 17, 2007
I did not enjoy this movie as much as the first. The movie's plot slowly built towards the issue of the Queen's struggle with her emotions and desires and the pending war with Spain. It built for so long that I was wondering what was in store for us long suffering viewers. The end came swiftly and disappointingly amidst a sequence of hurried scenes. Were the film makers short of funds when they threw together the scenes depicting the famous battle against the Spanish Armada? Who were those few people our hero on horseback was yelling to while God seemed to be fighting their battle for them in the Channel? I was confused and disappointed in the end and I suspect the director and producer were
November 5, 2007
AN EXCELLENT PERIOD PIECE, WITH SOMEWHAT STUDIED AND PRETENTIOUS CINEMATOGRAPHY, BUT WITH AN EXCELLENT ENSEMBLE, AND SOME FEROCIOUS ACTING. GROTESQUELY EXPLICIT, IT REMAINS A COMMITTED AND CONVINCING FILM, AND A WORTHY SUCCESSOR TO THE FIRST BLANCHET VEHICLE.
October 30, 2007
Cate Blanchett definitely deserves an award for her incredible performance in this film. The costumes were amazing!
October 27, 2007
Enjoyed the film and don't understand the negative comments.A good historical movie with no basis in fact.A good time waster.
October 24, 2007
You will enjoy this movie if you are a history buff but it is hard to follow unless you know something about the era. It is helpful to have seen the first 'Elizabeth' movie. Costumes are amazing and the plots and intrigues of the 'Mary affair' is very well done. Excellent portrayal of Elizabethan life.
October 22, 2007
Clive is a delight to watch... anytime....in anything... I kept waiting to be pulled into the story but it never really happened. I was never engrossed or invested in the outcome. It was entertaining... but not fantastic.