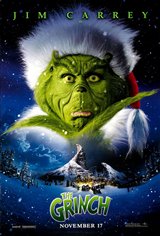 Dr. Seuss' How The Grinch Stole Christmas
25 Reviews
|
Write a Review
In Theaters: November 17, 2000
4.35/5
Based on 829 votes and 25 reviews.
75.05%

9.91%

2.20%

0.55%

12.29%
Please rate between 1 to 5 stars
Showing 1-10 of 25 reviews
June 5, 2021
Really lame movie. Beautiful Taylor Momsen and the strangely sexy Christine Baranski were the only things that kept me up. I would say miss this one.
December 22, 2020
Bombastic, perverse, and ultimately (and ironically) heartless. A distressing peek into the soulless abyss that is Hollywood.
December 15, 2020
TWO THUMBS UP !!!!!!!!!!
December 2, 2019
The grinch was beautifuly portrayed by Jim Carrey. An entertaining movie for the whole family.
December 2, 2019
this movie is not bad but the the grinch from 2018 is alot better.
November 19, 2018
A lame bastardization and a Christmas film for people with no brains.
November 3, 2018
"Dr. Seuss' How The Grinch Stole Christmas" has Jim Carrey playing The Grinch and I love it.
March 9, 2018
This again? Can't we just enjoy the original classic???
November 28, 2017
awful, that idiot jim carrey ruins it, they should of gotten someone else, I hate this movie, what a bunch of crap, I would rather watch the cartoon. screw carrey, god I hate that guy, cant act normal cause he would rather act like a two year old flipout, Christ, grow up.
March 12, 2017
Tired artificial bastardization of Suess. Stick with the Chuck Jones/Boris Karloff tv version.