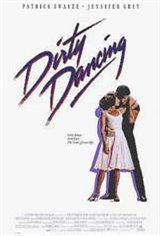 Dirty Dancing
40 Reviews
|
Write a Review
In Theaters: August 21, 1987
4.78/5
Based on 321 votes and 40 reviews.
88.35%

6.80%

1.62%

0.65%

2.59%
Please rate between 1 to 5 stars
Showing 1-10 of 40 reviews
July 11, 2022
Lousy movie that's is adored by legions of dumb broads. Swayze may have been likable in real life but he sucked at choosing scripts because he made one turkey after another.
January 11, 2009
I LOVE THIS MOVIE AND I AM A HORROR MOVIE FAN <3
August 1, 2007
I love Patrick Swayze. If his younger version was in my room right now, he would be held captive. I love him so much!!! He really didn't age well though. But he is and always will be A GOD!!!
December 8, 2006
I love this movie!!!!! The last scene has to be the best dance sequence ever!
October 7, 2006
i loved the movie and i watch it over and over. I like MR Swayze as he is my favorite actor i also have alot of his movies. Are they ever going to make a dirty dancing 2 with the same cast.
June 1, 2006
it was great I loved it
April 17, 2006
dirty dancing is one of my fave movies in the world. it is so romantic . i love the dances and the music. when i watched the movie i was like i want to be baby so bad because i wanted to be able to do the dances with patrick so bad . i think it is one of the best movies in the world. i love dirty dancing
April 8, 2006
all the music and especially the DANCES, PATRICK was Great.
March 20, 2006
great movie
November 23, 2005
I love the movie Dirty Dancing. It is really good and Patrick Swayze was really hot. I mean hot!!!