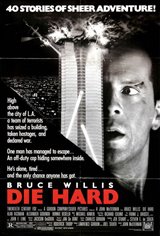 Die Hard
4 Reviews
|
Write a Review
In Theaters: July 15, 1988
4.07/5
Based on 10 votes and 4 reviews.
50.00%

28.57%

7.14%

7.14%

7.14%
Please rate between 1 to 5 stars
Showing 1-4 of 4 reviews
December 6, 2020
0 STAR EL-CHEAPO - Here's the Scoop - 1st, it's only $5.33. (apparently you didn't go see the movie). 2nd; because of Covid, studios aren't releasing many new movies. 3rd: Nothing!!! compares to a large screen, multi-speaker surround sound (Dolby wins here), & darkened environment. AMC is doing what it can to be safe. NOT ALL BUT MANY OF THE RE-RUNS ARE $5.33. I'd like to see more old favorites like Jurassic Park. Last of the Mohigans etc rh
October 1, 2018
NO stars from me on this one!! It's SO not cheap to see a movie these days and why the heck would anybody pay at big theater to see a 1988 movie that's been circulating on video for years?????? It's nothing more than an old rerun!!!! What a cash grab & an insult to public intelligence!! Nothing like flogging a dead dog!! Tip = rent the movie & enjoy this at home.
December 5, 2013
BEST CHRISTMAS MOVIE EVERRRRR!!! Jumping off the roof with the fire hose BEST SCENE!! And the block of C4 down the elevator shaft! And Hans Grueber SO GOOD!!!!! If you've never seen this, SEE IT.
July 9, 2010
yippy kay yay