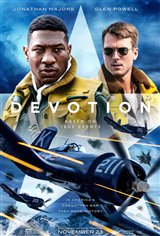 Devotion
| 23 Reviews
Write a Review
In Theaters: November 23, 2022
On DVD/Blu-ray: February 28, 2023
4.59/5
Based on 54 votes and 23 reviews.
Please rate between 1 to 5 stars
Showing 1-10 of 23 reviews
January 18, 2023
Interesting movie of a conflict/war & the people that served, as well as the forgotten memories of it. Not many remember the Korean War even less know about Jesse Brown. This movie serves as a reminder of who/what made up that piece of American history. Exceptionally done & well worth seeing.
January 5, 2023
THIS MOVIE HITS CLOSE TO HOME WITH LOVE AND FAMILY
December 23, 2022
WATCHED IT WITH MY GRANDSON. WE BOTH EBJOYED IT!!!
December 18, 2022
I loved this fact - based story of friendship set during the Korean war, of which there are too - few films about. My only complaint is that there were too - few people in the audience opening day (as with the opening day of "Midway," another fine film with a historical background.
December 18, 2022
This is a tightly constructed war movie. We enjoyed it. That was a brutal war. This is a dignified movie with powerful war action in the air and on the ground. We appreciated the lack of profanity.
December 17, 2022
Good act and story. Very good war movie
December 17, 2022
Love it
December 17, 2022
Good touchy story line and good war scene. A good war hero movie
December 17, 2022
Movie didn't have enough back story to show what the main character went through to become a navy pilot . Some flash back scenes would've made a huge difference. Plane footage was all that kept this flick interesting .
December 15, 2022
This is not a great movie by any stretch of the imagination. The first third of the movie drags and I tried to emphasize with the black pilot, but he seemed to be have such a big chip on his shoulder it was hard to like him. I will say that the CGI effects are spectacular for us war plane buffs and it is worth the price of admission. Overall though, it falls short of really getting into this movie. Once was enough. Certainly not worth 5 stars!