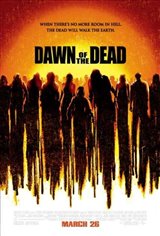 4.39/5
Based on 14884 votes and 121 reviews.
Please rate between 1 to 5 stars
Showing 1-10 of 121 reviews
February 26, 2023
Horror for imbeciles. An insult to Romero's original masterpiece. And Sarah Polley is one of the worst actresses ever.
October 24, 2016
Pointless and not scary. Romero's original was about a depraved consumer culture run amok. What better example of that than pointless movie remakes? The fact that this was even remade indicates that the makers of this film either couldn't grasp Romero's none-to-subtle theme or were too greedy to care.
January 21, 2007
Great movie, I liked it a lot, I heard part 2 is in talks, I hope they make part 2
April 5, 2006
extremly well done.
December 25, 2005
Movie is explosively good, I was hoping there would be part 2,Please make part 2
July 10, 2005
I loved this movie! I`ve seen it at least 10 times (I lost count). It has a great cast, great story and wicked zombies. The fact that the zombies run is freaky! It was wonderful to see great Canadian talents like Sarah Polley and Jane Eastman. Michael Kelly is hot and I hope to see him in more films in the future. I totally recommend this movie to everyone.
April 28, 2005
THIS MOVIE IS INTENSE
February 1, 2005
For all of those who commented that you never find out how the zombies were created... Why would that make the film any better? You know exactly as much as the characters in the film know. All any of these characters could have would be vague theories. Besides, if you look at Romero`s original works, the only one in which an explanation for the zombies is given is the original... and these days that explanation is laughable, at best! Any explanation would alienate some group of viewers due to ethical, religious, scientific, or other beliefs. Watch the film, and get immersed in what is happening. You don`t need writers spoon-feeding ever
January 20, 2005
I thought thies movie was very intense.
January 18, 2005
this movie was absolutley horrible..not funny, no beginning or ending...worst ever