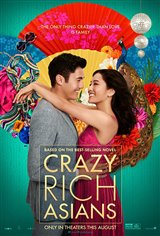 Crazy Rich Asians
| 87 Reviews
Write a Review
In Theaters: August 15, 2018
On DVD/Blu-ray: November 20, 2018
4.06/5
Based on 252 votes and 87 reviews.
Please rate between 1 to 5 stars
Showing 1-10 of 87 reviews
August 11, 2019
Wow so many good reviews from both critics and Tribute viewers. I guess i watched a different movie with the same title as I really didn't think it was very good. It seemed like one of those made-for-TV Hallmark romance shows, except with an all Asian cast and set primarily in Singapore. And no, before everyone gets all bent out of shape, I am not racist and it has nothing to do with the fact it has an Asian cast - I would have found it just as lame if it were an all American cast or an all Swedish cast or an all 'fill in the blank here' cast. It just wasn't that good. Characters were two-dimensional, subplots were not developed very well, and conflicts seemed too easily resolved. It really just reminded me of a made for cable TV movie. Anyway, just my 2 cents (or in this case, my 2 stars). PS - I love Asian people!
January 8, 2019
I watched it three times because it was that good!
December 8, 2018
This movie is in my Top 3 of movies that came out in 2018
November 2, 2018
LOVED IT!!!!!!!!!!!!!!!!!!!!!!!
October 26, 2018
This is the type of movie that gives you the feel good and fantasy-escape experience but not equivalent to the outrageous explosive type funny movie like"the Hangover". I say Crazy Rich Asians movie is NOT a 5-star movie, I give it 5+ stars; for I still remember the movie with a good feeling.
October 25, 2018
Awesome movie! Go see it. Great group of diverse actors. Hope to see this type of story again.
October 17, 2018
The movie didn't have any plot, character or dialogue that was interesting or original. It was the same tired old story set in Singapore, staring asian actors. Very handsome leading man though
October 10, 2018
Great fun and place. Believable
October 8, 2018
Super fun, very magical. Slightly more emotional than I was expecting, but I loved most everything about it.
October 7, 2018
It was really funny clean good comedy haven't seen a good movie in awhile this is a must see well written and the actors were great 👍🏾