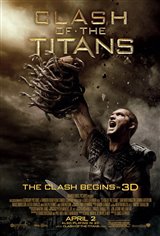 3.36/5
Based on 1078 votes and 234 reviews.
Please rate between 1 to 5 stars
Showing 1-10 of 234 reviews
April 13, 2017
Why was Ursula Andress even in this? She has no dialogue and just stands around on Mt. Olympus.
September 20, 2010
stupid and awful
September 8, 2010
Mildly entertaining. I saw the original back in the 80's and this was somewhat better. Special Effects were better, but the story and the acting was equally as bad.
September 6, 2010
what a waste of time!!
August 16, 2010
Acting was A+, Casting A+, Special Effects A++. Great Love Story. This movie brings out the whole spectrum of emotions that make a good story.
August 6, 2010
I got this film for my birthday last week its an awsome kick ass movie
July 30, 2010
Average action movie. Classic story, of course. However, the character development never seems to happen and you never feel any attachment to any of the characters. Special effects are excellent, though, and that seems to be the best part about the movie. Parts of the movie seem to have that old-school feel.
July 24, 2010
Okay action movie. Very weak character development and apart from the fight scenes, Sam Worthington comes across rather blah. Rather mixed up in the mythology aspect--lot of focus on Zeus and Hades but Poseidon was just mentioned no sight of him in the movie.
July 23, 2010
I Really Liked this movie
July 22, 2010
I saw the original movie and I thought it was classic. This remake changed the feel and the story to a point that it seemed just like every other Hollywood movie out there. They used the special effects to dazzle and distract but there was no real dialogue and the storyline was a bit convuluted.