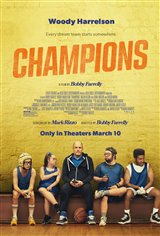 Champions
| 14 Reviews
Write a Review
In Theaters: March 10, 2023
On DVD/Blu-ray: May 2, 2023
4.55/5
Based on 44 votes and 14 reviews.
Please rate between 1 to 5 stars
Showing 1-10 of 14 reviews
April 11, 2023
The movie theme was excellent and would gave been 5 stars if the sexual innuendo and foul language was removed. The movie was all about not exploiting challenged adults, I I think that is exactly what you did by writing in all the cussing and sexual content.
April 4, 2023
One of the funniest, most genuine movies I've seen in a while. Everyone was laughing out loud. It made me love Woody Harrelson even more. All the friends actors were amazing as well.
March 28, 2023
Some funny parts definitely didn't fall asleep if you enjoy watching Woody harrelson you'll enjoy. I would recommend above age for language sensitivity. I'm glad they're putting more spot light on kids with disabilities LOVE that. So I'd say yeah go watch it.
March 28, 2023
Second time around! Funny and heartwarming with great acting love these kids. Enjoyed the message and story. Yes 18 and over recommended.
March 26, 2023
Great movie
March 26, 2023
Hilariously funny but genuine to a fault. Supporting cast of Special Olympics teammates are authentic and extremely talented.
March 20, 2023
Great movie for those aged 18 and over only.
March 19, 2023
It was funny and had a great message! I would go see it again one of the best I have seen in a while.
March 15, 2023
From cheers to the big screen, Woody is a blast. He actually is a very good natural actor. I wanted this role man..the movie is wonderful...
March 15, 2023
Feel good movie. Would watch it again