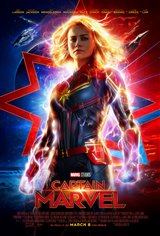 Captain Marvel
| 374 Reviews
Write a Review
In Theaters: March 7, 2019
On DVD/Blu-ray: June 11, 2019
2.28/5
Based on 2590 votes and 374 reviews.
Please rate between 1 to 5 stars
Showing 241-250 of 374 reviews
March 18, 2019
greatest movie ever
March 18, 2019
emotionless? yes that's why i go to a super hero movie for the"emotions'. Thor screams of emotions LOL get real people
March 18, 2019
Why are people pushing this ridiculous narrative that if you have anything negative to say about a female lead movie you're somehow sexist? Enough already! This was a terrible movie period! Terrible writing, directing, Brie Larson was emotionless 95% of the movie, plot holes throughout, a complete disregard to the source material and the MCU movies that came before it. This movie was bad and doesn't deserve any praise. If you haven't seen the movie I encourage you to see it for yourself. You come to your own conclusion. And if you disliked it post your reviews on here. Don't let this 5 star reviewers silence your opinions by labelling you as a sexist which is completely ridiculous. This isn't the first female lead action/super hero movie. Wonder Woman, Under World, Resident Evil, Tomb Raider, Aliens, Terminator, Salt, Red Sparrow, Hunger Games, Kill Bill, Peppermint, Atomic Blonde, Lucy, Hanna, the Girl with the Dragon Tattoo etc. When a movie is bad I'm going to call it out every time. And I don't care what gender or race the lead actor/actress is. A bad movie is a bad movie no sugar coating it. I gave it 2 stars and that's being generous
March 18, 2019
Loved the movie, goose was a interesting addition.
March 18, 2019
The movie was fine you people are s***
March 18, 2019
40% at 1 star.....anyone putting 1 or 2 stars is trolling and only lying to yourself. fun good movie, not a stand alone for sure cause lots has to do with telling more about what happened in MC Universe Good but not great
March 17, 2019
Saw this movie today with my family. Everyone loved it. Something smells funny with the 1 star ratings. Are these boys who are not mature enough to handle seeing a female super hero? Maybe thats it. The movie was fantastic. Great plot that ties in with the other avenger movies, great fight scenes, great special effects, great sound track, great/positve message for girls/women. Don't let the bad reviews keep you away. This movie is very entertaining
March 17, 2019
Writing is poor. Acting is passable. Pacing seemed off and the overall movie is lacking in any kind of joy. Main actress must have graduated from the Kristen Stewart school of acting because she is expressionless through most of the movie.
March 17, 2019
I don't know what people expect, this is a fantasy, action, superhero film and they don't get much better then this! Go and just have fun with it, you won't be disappointed!
March 17, 2019
What a waste of money and time!