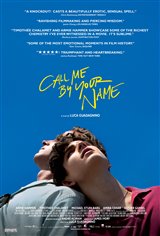 Call Me by Your Name
| 55 Reviews
Write a Review
In Theaters: November 24, 2017
On DVD/Blu-ray: March 13, 2018
3.57/5
Based on 182 votes and 55 reviews.
Please rate between 1 to 5 stars
Showing 1-10 of 55 reviews
February 23, 2019
Wow. This movie was truely the best movie I've seen so far in my life. People argue that it makes you queasy and that this is not a movie to watch with anyone around, and I have to agree because it's true. But that is what makes the viewer connect to the movie. It draws you in and leaves you wanting more. If you're going to watch this movie, do it on your own. If not, than don't complain that it was a weird movie. Please, to whoever is reading this, watch it. It has truely changed me.
October 7, 2018
Probably the best movie of 2017. As a film its nearly perfect. Definitely not for everyone though.
March 16, 2018
As a romantic at heart, this movie brought back memories I had years ago. I have been on both sides of this relationship. I have seen this movie 30 times and just cannot get enough of it. I love this movie.
March 15, 2018
This move is tops on the creepy movie charts. An adult in his 30s grooms a 17 year old for sex. The family is dysfunctional so it''s supposed to make everything okay. Messed up. Don't waste your time.
March 7, 2018
Excellent film, beautifully acted - I can see why it won the ACADEMY AWARD for Best Screenplay and why it was nominated for 5 Academy Awards plus other Awards as well. Some ignorant people will probably not like it and say "we left, we have kids" and I'm thinking, it's not a "kid" movie, why would you bring your Kids to it? Do you not ever read Reviews or understand the basic subject matter? It's an interesting and well produced movie -
February 23, 2018
Magically adapted straight from the pages of the book,loved this movie and it's actors.
February 20, 2018
Beautiful movie, grabs your attention from the start to finish! Painfully drawn out at times (for good reason) and not salacious at all. Every scene well-planned out, tugs at the heart. Characters very well realized, well played, very real. Anyone with a heart can relate. Interesting that everyone either loves it or hates it! Nothing between. The haters obviously have no soul, no heart, and no life. Why do they exist? They are of no consequence in this world. There are better people who make this world alive, and a wonderful place to be. It's the haters that ruin it for us all. This movie offers some hope that real people do exist and that love still survives. Very memorable.
February 19, 2018
Glad this movie came out. Just proof how many sickos are in our society. There are way more pedos than you think. Don't look...one is sitting next to you in the theater.
February 17, 2018
Both lead Actors did amazing jobs in the movie. It was such a tear jerker especially at end of movie where most people in the audience stayed until the credits rolled out. Very touching and moving." Seriously, I can feel every pain. My heart burns with Elio. I never feel like that before with a movie. I never thought a movie could demonstrate a true love this way. I'm 30 and this movie make me feel reflect about what is important to live. Unhappily, I cant say that is my favorite movie, but sure inside me is the best world ever. ! As for other reviewers , obviously (homophobic) or small minded, they are creating their own stories, fabrication or lies - like going to a bookstore is such a lame excuse, whats next going to a church ? next time please be creative... be a good writer. This is about reviewing the Film and not BULLYING . But I Let people who don't get the beauty of this movie drown in their bitterness. Whether you like it or not, this movie is now and forever . A CLASSIC AND AN ICON. Thank you to the Management of Tinseltown Theater for this beautiful Movie Poster. Such a great collection.
February 15, 2018
A lovely touching story. Very sad. I loved the music.