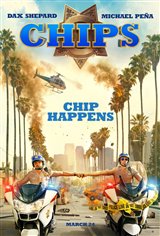 CHIPS
54 Reviews
|
Write a Review
In Theaters: March 24, 2017
3.82/5
Based on 138 votes and 54 reviews.
56.06%

15.15%

4.55%

3.03%

21.21%
Please rate between 1 to 5 stars
Showing 1-10 of 54 reviews
August 29, 2017
OMG !!! I laughed the entire move ! the Theater was non stop laughter, it even had me crying at parts ... lol FUNNY I still laugh when I think of a few parts ... :)
August 29, 2017
What a disgrace. The original tv series was 1000 times better than this garbage movie and a lot more fun to watch this thing is full of smut
August 13, 2017
One of the best movies I've seen all year.
July 27, 2017
pure crap who would support such a insult to the TV series like how they did with Charlie angles, wouldn't pay to see this master piece of donkey dropping, saw the trailer and that was enough...stay away and if somebody was going to do a movie from the TV series make it good, chip and Charlie angels got it wrong,,,,PU
June 27, 2017
Funny and fun
June 8, 2017
Zanier than Naked Gun and twice as moving. A solid night out at the cinema.
April 11, 2017
Lousy movie.
April 9, 2017
Great time kill. If you liked 21 jump street the you will like it. Good action and story!
April 9, 2017
4 solid stars as a laugh out loud hoot. I grew up watching chips' exploding openers with nothing to follow. This was not that. The leading duo know how to do comic delivery. Been years since going to a comedy where others around can't hold the laughter. Would certainly go to see the next Dax or Michael Pena movie. . I keep checking the box office receipts for chances of a sequel.
April 6, 2017
Great fun, MOVIE action packed and moves fast. One of the better comedies