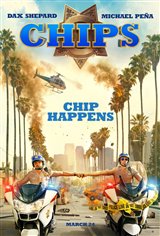 CHIPS
54 Reviews
|
Write a Review
In Theaters: March 24, 2017
3.82/5
Based on 138 votes and 54 reviews.
56.06%

15.15%

4.55%

3.03%

21.21%
Please rate between 1 to 5 stars
Showing 21-30 of 54 reviews
April 1, 2017
Worth it yaaaa! It's a movie finally that's funny and not real life that I check at the door enjoy it and have fun.
March 31, 2017
WASTE OF TIME AND MONEY
March 31, 2017
Flawless reboot of the television classic.
March 30, 2017
Was in stitches for the whole movie! Look for the cameos.
March 29, 2017
One of the better movies inspired by a classic television series.
March 29, 2017
I practically had to drag my husband to see CHIPS after he read the poor reviews on Rotten Tomatoes, but I said 'what the hey, it's cheap Tues...the trailer looks funny'. Not only did we laugh out loud, but so did the rest of the meager audience. It's nothing like the TV show (maybe a good thing) and there may be a couple of scenes that thud and seem better suited to a 'Porkys' remake, but overall, it was a light, enjoyable movie! If you liked Bridesmaids you'll probably like this.
March 29, 2017
Bad reboot from the original series.
March 29, 2017
Really funny, but a cameo from Abe Vigoda (R.I.P.) would've been sweet.
March 29, 2017
Funnier than I expected....great mix of mostly comedy ....action...drama , and fast vehicles !
March 29, 2017
It is an awesome movie. I liked it. I give it 5 stars.