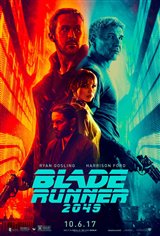 Blade Runner 2049
| 441 Reviews
Write a Review
In Theaters: October 6, 2017
On DVD/Blu-ray: January 16, 2018
3.24/5
Based on 4576 votes and 441 reviews.
Please rate between 1 to 5 stars
Showing 1-10 of 441 reviews
August 14, 2018
Worst movie ever
August 14, 2018
Horrible movie
March 16, 2018
Great movie.
February 18, 2018
more than what I expected. either you are going to love this movie or hate it.
February 5, 2018
As others have said, if you found this movie boring, slow or without a plot, you're definitely a simpleton that needs to stick with Michael Bay explosions. This film was FANTASTIC, and i havent even seen the original, although i read up on it a little bit for a head start on this sequel. We started this movie later in the evening and it is longer at 3 hours and lets say drawn out, but not "slow" in terms of the storyline... This film was very intriguing and i know it will be even better the second time around.
January 29, 2018
not bad not great, too long and too much talk
January 24, 2018
Incredible! A top movie of the year, HIGHLY under-rated. Awesome creative visuals, excellent starring and supporting performances, astounding score... Villeneuve went all Kubrick on us absolutely nailed it!
January 22, 2018
all those who have given 5 stars for this movie were either paid well for it or just like a lame excuse of a movie an story line just to see some tits a couple times...was gonna turn movie off till harrison ford come on the scene ,and because im a ford fan still watched 20 more minutes of movie before turning it off an throwing it in the trash...i dont want it in my video library...guess its possible those 5 star reveiws were based on visual effects alone but not on story line or acting ...i give it a half star if i could visual effects ye id give it a 4
January 21, 2018
Good movie, faithful tribute to the first movie but not as good as the original. As others have pointed, the ones giving the low rating probably didn't understand what was going on so it's understandable. I wouldn't try to show this to my 80 year old dad because I know he wouldn't get it but his opinion wouldn't diminish the quality of this film.