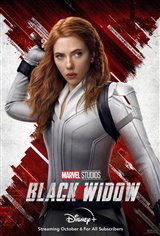 Black Widow (Disney+)
| 46 Reviews
Write a Review
In Theaters: July 9, 2021
On DVD/Blu-ray: September 14, 2021
4.13/5
Based on 820 votes and 46 reviews.
Please rate between 1 to 5 stars
Showing 1-10 of 46 reviews
December 13, 2021
It´s not a thriller. It´s a stupid C-tier movie. There was a promising montage of abusive training of young widows during the opening titles but then it became generic MCU crap with stupid jokes and disgusting, vulgar attempts of humour. The abused, brainwashed Nat´s sister acts like a spoiled, arrogant brat with no discipline and she´s so loud and annoying she would stand out everywhere and blow up her identity. She couldn´t be a spy. She has no PTSD from the stuff she had to endure since her early childhood. She is also a total sociopath (mass murder is fun to her), just like the "mother" who abused kids in the Widows program and abuses animals for fun in the movie. Red Guardian is a man, so he is bodyshamed and he´s useless despite having superstrenght and agility. Taskmaster played by a stunt man but revealed as a woman who is ridiculously tiny compared to the stunt man is just a cherry on the top of this rotten cake.
October 15, 2021
The movie was more about family than anything else. Everyone was seeking to be part of a family while going on a killing spree at the same time. The action was good but the story got tedious . Black Widow deserved a better send off.
October 12, 2021
Why did they even bother.
October 12, 2021
Why did they even bother.
September 18, 2021
Uninspired. Marvel sausage.
September 5, 2021
Another manipulated score. That movie is awful. The bratty sister is the worst. Or maybe the gendreswapped Taskmaster who is actually Taskmistress but the male stunt double did all the hard work. Shame on you, Marvel! Either hire female stunt double, or just accept women can´t to everything the same way men can. The "Russian Capt. America" was the butt of all jokes, despite his superpowers which were never used, so Mary Sue could shine. If you have to put down male characters to make female characters look strong, you didn´t create a strong female character in the first place.
August 16, 2021
The movie was monotonous. I did not like the Russian sister. Lol
August 11, 2021
Love the way filmmakers bring us into the future. Great story on one man so powerful trying to control the world by chemical induced for mind control. Hiding in space built operations. So far out, writers are Genius. Lots of action and the strength of family. Must see.!
August 11, 2021
Pretty good. One of the better Marvel movies. Lots of action. Nice emotional moments. Good, solid laughs. Social commentary is subtle but still profound.
August 10, 2021
Okay movie, but somewhat miscast. Its one of the better marvel solo efforts, but a bit strangely timed in terms of fitting into the wider story arc, it probably should have been made a few years ago at the height of the avengers hype. Its not as dull as civil war-but not as good as endgame. Florence Pugh steals the show (big fan of hers), ScarJo is okay-her style tends to be divisive-if you find her annoying in general, she won't do anything new in this. I just cannot fathom why Rachel Weisz is portraying somebody who is old enough to be ScarJo's mum? She so obviously isn't.