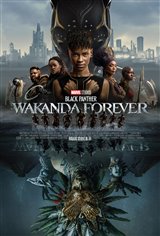 Black Panther: Wakanda Forever
2.93/5
Based on 182 votes and 57 reviews.
Please rate between 1 to 5 stars
Showing 1-10 of 57 reviews
November 26, 2022
Jackie Brown is much better black female lead than Mary Shuri. Django Unchained is much better anti-racism movie than Wokanda.
November 23, 2022
Awesome.
November 23, 2022
Good plot and story. Anyone that thumbs down this movie for being unrealistic should have known that it is a Marvell creation and science fiction is what they do. Very entertaining movie.
November 22, 2022
Extremely well delivered 👏 👌 awesome story line 👏
November 22, 2022
This is an AMAZING MOVIE! They put there all into this and it shows.No racism towards white people (and I'm saying this as a white person). Overall amazing movie. Even better then the first movie which is even hard to beat.
November 22, 2022
The 'forever' part of the title is apt, as this is interminable. I agree that Cannibal Holocaust was much better. So was Jenna Jameson's Hell on Heels. That's a really good one!
November 21, 2022
Everything. Great tribute to the fallen King.
November 21, 2022
A worthless steaming pile of cow dung!
November 21, 2022
AWSOME movie and suri is so cool in the movie.
November 20, 2022
This was wholly unbelievable that women fight men without breaking anything. It's too bad that strong woman no longer means one who challenges and sacrifices for what she believes nor works along side men instead of enjoying a false superiority. I did enjoy the anti-immigration standpoint as okay from a black nation, letting us know that white people should be glad to take on the burdens of the world.