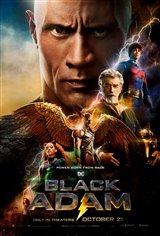 Black Adam
| 32 Reviews
Write a Review
In Theaters: October 21, 2022
On DVD/Blu-ray: January 3, 2023
3.65/5
Based on 98 votes and 32 reviews.
Please rate between 1 to 5 stars
Showing 1-10 of 32 reviews
November 27, 2022
The cast was very nice. This movie had a good concept to follow. I would watch this movie again. I like it.
November 27, 2022
This simply proves that DC will never be able to compete with Marvel in superhero movies... I mean, you have Black Adam, and The Rock... and you STILL manage to make a mangled mess of boring garbage for a movie? Save your money, skip this stinker.
November 26, 2022
As with many DC movies, the villain was not particularly interesting. The connection between the Justice Society and Black Adam was weak. Dwayne Johnson did a serviceable job as Teth-Adam. Too many explosions and too little plot. The end credits scene was good.
November 25, 2022
Unbearably bad
November 24, 2022
4 Stars ??? This was the worst hero movie.
November 21, 2022
Johnson was great - just enough humor, no silliness. Very good.
November 12, 2022
EVERYTHING WAS GREAT, GRAND, AND TERRIFIC. IT KEPT THE VIEWERS IN SUSPENSE AT ALL TIME.
November 11, 2022
To all negative people out there don't bother with your comments this is a superhero movie if you are not a fan of DC and Marvel movies don't bother watching a great comic fantasy the Rock was amazing great acting he did a great job, and all the new characters were fantastic DC amazed us all with visual effects it was really well done for all families to enjoy, The Rock is the best.
November 10, 2022
The plot with the Black Adam and his son was a little hard to follow, but overall the movie was entertaining.
November 10, 2022
Was unsure with all the negative reviews but it turned out to be highly entertaining. The two hours went by quickly leaving you wanting more