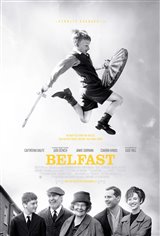 Belfast
| 22 Reviews
Write a Review
In Theaters: November 12, 2021
On DVD/Blu-ray: March 1, 2022
PG-13 | Drama | 1h 38m
4.24/5
Based on 66 votes and 22 reviews.
Please rate between 1 to 5 stars
Showing 1-10 of 22 reviews
March 27, 2022
Appealing characters and a real storyline. It reminds one how quickly conditions based on ideology can divide groups so quickly and have grave consequences.
February 26, 2022
Evertyhing
February 25, 2022
I liked pretty much everything about this movie. Acting, story line, cinematography, music were all excellent. Right amount of violence to get the point across without 'overkill'. I left feeling that I had gotten my time and moneys worth.
February 24, 2022
By far the best picture of the year (of the ones that are nominated). The acting was incredible, Branagh did a great job with the script and directing the actors, especially the kid. I think directors who are also actors get better performances from their cast.
February 20, 2022
I can see why there are mixed reviews of this one. My partner loved it, but me, not so much. It's a movie that wasn't grim enough to do The Troubles justice. At times it seemed to be flirting with becoming an Ulster version of La La Land…..Ra Ra Land maybe lol. And I found those moments irritating. Judy Dench will be lauded no doubt but her accent was patchy. A few accents were patchy. But as my partner pointed out, maybe I was looking at it wrong. It was based on KenBra's childhood memories and this is why a lot of it seemed like an overly childish account. I think it's to be enjoyed if the viewer can keep in mind that these are memories of quite a unique childhood and not a historical document.
February 8, 2022
Very disappointing movie. Waste of time - - - my husband and I forgot we had seen it minutes after walking out of the movie theatre. Completely and totally overrated.
January 24, 2022
A fair and true representation for the most part. None of the usual Hollywood glitz an glamour. The black and white film format served the presentation well.
January 12, 2022
Amazing acting by all the characters. The Everlasting Love serenade told us everything about the leads: hot, sexy, emotional and heart- thumping!
January 11, 2022
Hadn't been to a movie in years and didn't read any reviews before I saw it. So,….was great seeing a movie and being one of six people in the theatre. Regarding the movie, I didn't know what to expect really but I thought it lacked a strong plot line, interesting twists or charcter development. The whole movie I was waiting for something interesting and was disappointed. It was a child's view and some family views of the conflicts in Belfast. It was like, duh…it's hard for a family. Wish there was more with Judy Dench and Ciara they were the most interesting characters. Also the mother was beautiful. There was no politics really which would have given the movie more depth. Overall, just OK.