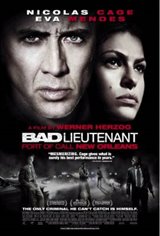 Bad Lieutenant: Port of Call New Orleans
14 Reviews
|
Write a Review
In Theaters: November 20, 2009
R | Drama | 2h 1m
3.21/5
Based on 56 votes and 14 reviews.
28.57%

21.43%

14.29%

14.29%

21.43%
Please rate between 1 to 5 stars
Showing 1-10 of 14 reviews
May 29, 2010
I thought the movie was great, though I would have enjoyed seeing Val Kilmer more.
May 4, 2010
This movie is NOT even worth 1 star but that is the lowest rating this site allows! DO NOT WASTE ONE SECOND OF YOUR TIME ON THIS...
April 25, 2010
one of the worst movies ever produced, really stupid, enough said.
April 23, 2010
Bad movie - surprised Cage took this role. Very slow moving and not worth the waste of two hours.
April 9, 2010
A total waste of my time and money
January 24, 2010
It was such a strange and weird movie. It wasn't good it wasn't bad it was just okay at best. It was very confusing at times, the action was limited and all Cage ever seemed to do was get high.
December 29, 2009
LoLz, good acting though
December 19, 2009
Not a very good movie...don't bother wasting your time...only good thing was Nick's acting...2 stars...
December 16, 2009
Cage at his very best! His career is revived and thank goodness because he's one of the best. He wears this role like a comfortable old sweater. The story line, characters, and location prove a winner. Again Cage is so convincing in his character portrayal, flaws and all, that you love him and hate him both at the same time. Superb!
December 12, 2009
Poor movie, some of plot just stupid, dumb ending. We overheard other viewers in theatre with similar impression. What a waste.