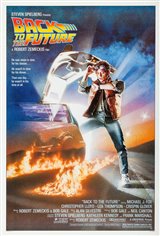 4.59/5
Based on 36 votes and 8 reviews.
76.47%

14.71%

2.94%

2.94%

2.94%
Please rate between 1 to 5 stars
Showing 1-8 of 8 reviews
June 18, 2020
Love this movie, have seen it so many times!
July 29, 2019
Had to see it in the theater. A lot of 9/11 predictive programming and some other interesting things. I enjoyed it.
October 22, 2015
A classic. Saw it 30 years later and still got a few chuckles.
September 28, 2012
One word to describe this movie: Incredible! Couldn't be any better. The futuristic words they thought up to say was Pure Genius!! The writer is a Genius too for originally writing this!
January 28, 2011
Is this the remastered version?!?!?!!? MUST SEE!!!!!
January 7, 2011
they are all great movies...but..why are they bring all these older movie to the theatre...is there some kind event happening???
November 9, 2010
one of the greatest movies of the 80s
October 28, 2010
loved the movie found all of them on DVD one day and bought didn't even had to think on that one.