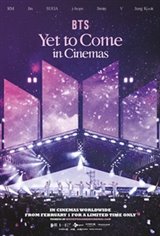 BTS: Yet to Come in Cinemas
13 Reviews
|
Write a Review
In Theaters: February 1, 2023
Concert | 1h 44m
4.48/5
Based on 46 votes and 13 reviews.
86.96%

0.00%

0.00%

0.00%

13.04%
Please rate between 1 to 5 stars
Showing 1-10 of 13 reviews
February 8, 2023
Great Dancers but not good singers always using modern technology microphone auto tune . Most of the time Lipsync. Act like young Ladies , behave like one . They loved being pretty than being men. Described them as LadyBoys.
February 6, 2023
There can be no better reason to return to cinemas.
February 5, 2023
Vocals are stable with their complicated choreography and stage presence is insanely captivating. True artists indeed.
February 3, 2023
IT IS SOOOOO GOOD
February 2, 2023
These guys are insanely talented! I just wish I spoke Korean, so I understood everything without looking lyrics up online. The way the movie was shot and edited was masterfully done!
February 2, 2023
BTS doesn't disappoint. I wish I could have been there in person to feel the live energy.
February 1, 2023
Is this playing in theaters In Dayton Ohio I would like to know where and when please .
February 1, 2023
Ugh....what has happened to real music. To each his OWN, I guess. Not my cup of tea.
January 16, 2023
This is yet another legendary concert from the iconic BTS.
January 12, 2023
I havent even watched yet, but I know it amazing by how people are talking about and as an ARMY, IM SOOO HAPPY I GET TO SEE IT !!!