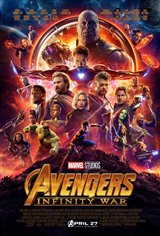 Avengers: Infinity War
| 209 Reviews
Write a Review
In Theaters: April 27, 2018
On DVD/Blu-ray: August 14, 2018
4.02/5
Based on 1580 votes and 209 reviews.
Please rate between 1 to 5 stars
Showing 1-10 of 209 reviews
September 25, 2018
I loved it an explosion of action and laughs it is my favorite movie ever best movie in cinama
August 27, 2018
Great movie watched it back to back and loved it
August 26, 2018
best movie Ive ever seen. The adventure of all my favorite superheros will stay in my heart for a lifetine
August 20, 2018
Best of the Best! Seriously the juggling act of all the stars and giving them great lines and amazing scenes in the visual spectacle that is Avengers. 10yrs of waiting was completely worth it! Finally a villain with complete indifference to life and you felt he was actually able to succeed in his destiny and you actually believe that he believes what he is doing is right! Killmonger came the closest in his belief and resolve to make it happen, but Thanos, even though he's CGI, you forget about it and start to see his side!
August 12, 2018
some missing words in my review before, but all in all be a superhero fan not just a marvel or a dc fan and dont make negative reviews because your a fan of other superhero company
August 12, 2018
saw it for the fifth time with a friend it being his first time and like it that much more, it hard to say anymore because i put a review before talking about the movie, but it like no other super movie out their as the effects are off the charts, this would the second movie i saw five times on the big screen that and wonder women, and would of saw Avengers: Infinity War only four times but i want my friend to see it and glad i did
July 26, 2018
I am a huge Marvel fan, I loved the movie, Even tho Thanos is killed Loki, Vision, etc. I Want to see Avengers 4. The people who say the dislike this movie, then why did u even see the movie? Or they're D/C fans, Haters, your lucky that all the All the Marvel fans didn't see this or they (including me) will kick your butt! I am and always will be a Marvel fan 😍 #Marvelfanforever
July 10, 2018
I am a big fan of the MCU and I really liked this movie. Despite it's run time the film doesn't seem to drag on at all. The pacing is good, the action is good, Thanos was portrayed very well and the ending sets up what should be another excellent film with Avengers 4. Absolutely worth seeing if you are a fan of any of the other Marvel films.
July 7, 2018
Good story line,and action throughout the entire movie
July 2, 2018
amazingggggg