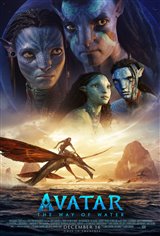 3.69/5
Based on 362 votes and 98 reviews.
Please rate between 1 to 5 stars
Showing 81-90 of 98 reviews
December 19, 2022
Pocahontas or Dances With Wolves with blue people. Too long, and plodding. The novelty of the first, damaged by a sequel of monetary opportunity. James Cameron should retire before be makes a blue alien on the galactic titanic starship. Wait for it to be released so you can skip past a lot of the scenes. Really slow.
December 18, 2022
Phenomenal film. James Cameron's passion and creative energy is on the screen. It's an achievement for cinema; for sci-fi/fantasy fans; for anyone that dares to dream big! Way to go, Cameron! You did it!
December 17, 2022
The story line is not good and the character design for human weapon is not good,not fancy enough
December 17, 2022
Dope plotline, even more insane effects than the first one, and more of Pandora to see!
December 17, 2022
Loved it
December 17, 2022
Really lame movie. An earlier review posted here asked "How can anyone pan this movie??" Gee, it's almost as if humanity doesn't operate as a hive mind and actually have varying opinions about a subjective work! Really, people?!? That's the mentally of audiences for this kind of thing! Sheesh!
December 17, 2022
Moronic spectacle.
December 17, 2022
This movie is a feast for the eyes, but it should have edited down to 2 hours. This movie suffers from bad editing and at times the plot is incomprehensible and a bit boring. Not a bad movie. Just a movie that everyone could wait and see at home. Not as good as original as most sequels tend to be.
December 16, 2022
How can anyone pan this movie?? I thought it was visually stunning and had many unique creatures. So what if it didn't have a great story line. My husband and I loved this sequel to the movie. I did not even realize it had been 3 hours long as it kept us so immersed!! It was great to have a movie we both enjoyed!! In fact I would pay to see it again!
December 16, 2022
Waaay too long. Cameron is still a competent helmer of action scenes but he's never really been good at directing actors and he is horrible at writing dialogue. Many of the lines provoked unintended laughter. Miss it.