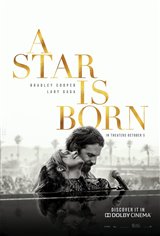 A Star is Born
| 290 Reviews
Write a Review
In Theaters: October 5, 2018
On DVD/Blu-ray: February 19, 2019
4.12/5
Based on 1036 votes and 290 reviews.
Please rate between 1 to 5 stars
Showing 31-40 of 290 reviews
January 27, 2019
Very disappointed, songs were good, one star, and Sam Elliot's performance deserves the second star!
January 24, 2019
This was one of my all time favorites! It took me to all the octaves of feeling and beyond. Loved it!!!
January 23, 2019
Overall, I didn't think it was great, but I have to say this was Bradley Cooper's best performance so far. Having said that, he was totally doing an impression of Sam Elliott, who was the best thing in the movie. Not that doing an impression of Sam is a bad choice, I think it was the right choice for sure.
January 22, 2019
Boring, cliche, dragged on forever, "Shallow" sounds like a ripoff of "Eye of the Tiger" (yuck). One star is for Sam Elliot's performance.
January 19, 2019
This movie was very boring, corny, shallow and predictable. After 5 minutes of meeting each other, the characters unrealistically found themselves in a complex, interdependent relationship.... it was like a bad Telanova. The story and the dialogue were annoying and my husband and I walked out in the middle of it.
January 17, 2019
Get the most out of this well done movie. Go see the movie in dolby sound. Amazing
January 15, 2019
If greatness of a movie is being able to use the F--- word 10 to 20 times a minute is what helps to be Oscar worthy. After 20 minutes I didn't mind asking my Wife if it's time to to leave and we did. Other people in their reviews said this is how people talk every where!!!!! No not with the people I know!!!
January 8, 2019
Save the fare. Don't understand all the hype and boasting of greatness. Found it unexciting, dialogue had a very limited vocabulary, acting was not! This movie absolutely does not compare favorably with the versions casting Judy Garland or Barbara Streisand.
January 4, 2019
Bradley Cooper will break your heart in this film (and is there any woman he stars with that he doesn't have amazing chemistry?) He expanded the male character in this remake and it works. You will think about it long after and talk about it even longer than that. Women and men both love it. If it doesn't pull in a slew of Oscars, I will be very disappointed.
January 3, 2019
both Bradley Coopers best acting ever AND Lady Gaga amazing performance. If you like her music, you must see this film. The BEST of 2018 movies.