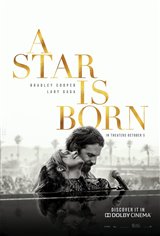 A Star is Born
| 290 Reviews
Write a Review
In Theaters: October 5, 2018
On DVD/Blu-ray: February 19, 2019
4.12/5
Based on 1036 votes and 290 reviews.
Please rate between 1 to 5 stars
Showing 1-10 of 290 reviews
March 29, 2019
Music and story are great
March 21, 2019
Fabulous acting and singing! Best movie ever!
March 18, 2019
Love this movie!!! Well done!!
March 17, 2019
Excellent performance by Bradley ,He was great , but I can't say the same thing for Gaga. I love her as a singer,but not on this movie.Her performance was the missing part of that movie,Bradley looked as a singer more than Gaga , to me..
March 8, 2019
Worth seeing though I think it should have some kind of advance warning that it depicts suicide. Realistic romance between Bradley Cooper and Lady Gaga. Agree that there was way too much use of the f-word. Thought it was way better than the Streisand version--I just couldn't picture Streisand and Kristofferson as a likely couple.
March 8, 2019
Great movie. Saw it twice.
March 5, 2019
Excellent performances by Bradley Cooper, Lady Gaga. They had a special chemistry and it showed. Awesome! Oscar worthy show and the song "Shallow".
March 4, 2019
Cooper may yet make a fine director, but his efforts here are wasted on actors who can't act and singers who can't sing. Gaga is especially miscast, and non-enthusiasts will doubtless find the soundtrack nigh unlistenable. We didn't need another version of this tired tale, and let's hope there isn't a sequel.
March 4, 2019
One of the best, this movie was brilliant... I've never watched a movie that was so damn real, Bradley is unstoppable 💕 Lady Gaga voice and acting was outstanding 💕
March 1, 2019
Just listenig to the music is enough but the acting is superb.