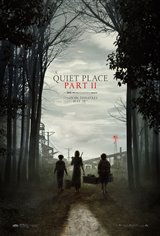 A Quiet Place Part II
| 27 Reviews
Write a Review
In Theaters: May 28, 2021
On DVD/Blu-ray: July 27, 2021
4.24/5
Based on 74 votes and 27 reviews.
Please rate between 1 to 5 stars
Showing 1-10 of 27 reviews
July 19, 2021
nothing new, not much action, too boring, ending even more boring, those aliens started dying on a single pistol headshot, then where tf did all the tanks go if tose aliens weak asf. The only thing thrilling was the actress.
July 17, 2021
Awesome! Love that they kept the actors the same and the movie started right where they left off!
July 13, 2021
Best Picture of the year. 2021 Love that Emily Blunt, really good actress.
July 12, 2021
Loved the first quiet place film. This hit the spot a sequel that can rival the quality of the first film.
July 9, 2021
This movie is going strong, saw it three times, liked it better than the first one. Great acting, so real and injured boy screams went right through me sure seemed real. This film is worth every penny and so different from all the rest. LOVED IT!
July 8, 2021
Great job on this movie Mr./Mrs. John K. Totally amazing story and well put together now I have to go get the first one. Thanks!! And thanks Tribute too.
July 8, 2021
Great movie that shows you don't need cars jumping ravines or superheroes or monsters punching for 7 hours. well done
June 28, 2021
Decent cheap tricks to make you jump. Overall worth watching but not as good as the first
June 28, 2021
Saw the trailer for Part II before a showing of 1917 in February of 2020; been gnawing at the bit to see this flick for over a year! Huge fan of A Quiet Place, and upon one viewing I like Part II even better! Critics aren't jiving, this gem simply begs to be seen on the big screen! Great cinematography, acting and the overriding theme of a family looking out after itself is still there. Absolute must-see for all horror aficionados!
June 25, 2021
Great story, and very scary! I saw it in the movies, and it was loud when the final battle came