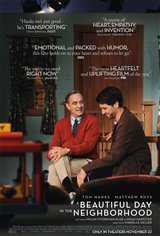 A Beautiful Day in the Neighborhood
| 102 Reviews
Write a Review
In Theaters: November 22, 2019
On DVD/Blu-ray: February 18, 2020
PG | Drama | 1h 47m
3.49/5
Based on 428 votes and 102 reviews.
Please rate between 1 to 5 stars
Showing 1-10 of 102 reviews
March 2, 2020
"It's a Beautiful Day at the Cinema A Beautiful Day for a Movie..." And, I am so proud to say, this is my Favourite Film of 2019!
February 27, 2020
eddie murphy's mr. Rodgers on snl is much better
February 18, 2020
SLOW and boring , how exciting could Mr Rodgers be after all
February 17, 2020
Authentic.....
February 16, 2020
Tom Hanks was a wonderful Mr. Dress up. Loved the Whole story. Even tho' Fred Rogers was Bi sexual He managed it well, remaining with his wife of 50 years and who ever else, it does not matter. I loved him,as did all the children love him! Well done.
February 14, 2020
I felt so good at the end and didn't get out of my seat until every last bit of the film,etc. was over. The large majority of the theater did likewise. Everyone was mellow!
February 11, 2020
awsome movie and awsome job tom h
February 9, 2020
I saw this a 2nd time and it was better bringing my 22 year old daughter who was emotional throughout this show. What a nice way to live a life.
January 17, 2020
Hanks nails Mr. Rogers in this flick. Please make sure to bring a few tissues as it has such tender moments it will make you fill up for sure, I cried like a baby every time I saw it, twice so far and plan on going at least one more if not more before it leaves the big screen. It's a must see and will sure turn into a classic down the road.
January 15, 2020
Wonderful movie. Tearjerker and interesting human story. Loved Mr. Rogers. Teaches an important lesson about forgiveness. Must see movie!