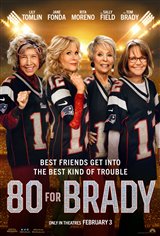 80 for Brady
38 Reviews
|
Write a Review
In Theaters: February 3, 2023
On DVD/Blu-ray: May 2, 2023
3.73/5
Based on 118 votes and 38 reviews.
52.54%

11.86%

6.78%

13.56%

15.25%
Please rate between 1 to 5 stars
Showing 1-10 of 38 reviews
March 12, 2023
Went because of the cast -- expecting an intelligent comedy, but found it very cliche. Would be okay to watch streaming, but not worth the price of admission.
March 8, 2023
THIS FILM WAS SO FUNNY AND SO GOOD THE AUDIENCE CLAPPED AT THE END AND EVERY FACE HAD A SMILE ON IT. I CAN'T WAIT TO SEE IT AGAIN.
March 6, 2023
I just didn't like it. I didn't find it funny...but I don't think that makes me a horrible person despite what others here would say. If you like this movie, fine! You don't have to spit venom and hatred at those who disagree with you!
March 3, 2023
I am a Diehard Patriots fan & Loved every minute of it. People that give it a bad review are NE Patriots haters & are jealous.
February 28, 2023
It was so good and makes me laugh and it was very touching
February 28, 2023
Bunch of washed up libtards trying to make a quick buck.
February 26, 2023
Boring. Not funny
February 26, 2023
There was nothing to like about this movie!!!! Not funny...I gave it two stars because of the cast. Since COVID it seems as though the movie industry doesn't care if they put out good movies anymore.
February 26, 2023
More Hollywood garbage
February 25, 2023
It was a sweet movie but I wonder how much of it was true. Some scenes seemed a bit far fetched. I watched it with my MIL & SIL. The acting was sweet.