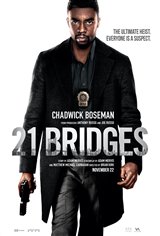 21 Bridges
24 Reviews
|
Write a Review
In Theaters: November 22, 2019
On DVD/Blu-ray: February 18, 2020
3.91/5
Based on 80 votes and 24 reviews.
45.71%

28.57%

8.57%

5.71%

11.43%
Please rate between 1 to 5 stars
Showing 1-10 of 24 reviews
February 15, 2020
21 yawns
January 8, 2020
I really enjoyed this movie. I held me in suspense for the entire time. No CGI was used, so the movie depended on good acting, a great script and amazing timing of events to make an outstanding movie. Well done.
January 5, 2020
Very well done. Certainly keeps you sitting on the edge of your seat.
January 1, 2020
very entertaining movie, Good action.
December 26, 2019
Movie was intriguing and had a unexpected twist.
December 18, 2019
Movie was great, theme kept you on the edge of ur seat. Characters was just right. Waiting on part 2.
December 14, 2019
if I could rate it as a minus 10 stars, I would.....where do they get these so called actors.....no character actors worth a dam, the silly looking guy with the gun is as fearsome as Kingfish was on Amos and Andy except Kingfish could act.....how damn sorry can the movies get.....old time movies had real actors,...now we have filth, racist trash made for the low class no taste public.
December 14, 2019
Perfect & Entertaining from beginning to end. Action filled. Loved it!
December 9, 2019
Good movie to watch
December 8, 2019
Good action and Chadwick was perfect for the part he played. It was predictable though, but I still enjoyed it!