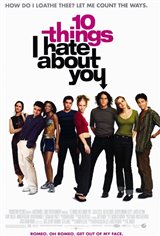 10 Things I Hate About You
42 Reviews
|
Write a Review
In Theaters: March 31, 1999
4.43/5
Based on 755 votes and 42 reviews.
76.87%

10.16%

2.54%

0.42%

10.01%
Please rate between 1 to 5 stars
Showing 1-10 of 42 reviews
November 9, 2009
i think i this movie was gud but it coud have been better
September 21, 2008
mE AND MI SIS LOVE DAT MOVIE!!!!!!
June 25, 2008
This filam is amazing
April 17, 2006
this is a grat movie! i think that heath and JOseph-Gordon look a lot alike, and that is a very good thing. this is a very good teen movie, even though it was modeled after a very complex and sphycological book. Awsome man!!!!!!!!
January 25, 2006
it was a good moive
January 16, 2006
the best film ever ....heath is gorgeous
December 17, 2005
i watch it some much i know every word
October 8, 2005
I love this movie.I watch it almost nonstop.It`s hilarious!I didn`t know about till last weekend though.I was reading the comments and Julia Stiles is great in this movie and have you seen SAVE THE LAST DANCE?!Julia and Heath are SOOOO perfect together in this movie!!!!!
August 22, 2005
I Love This Move , And I Love Heath
August 11, 2005
FAVORITE MOVIE!!!!!! after Bedazzaled. HEATH AND JULIA!!!!!! could there be a more perfect couple? Joseph seems like the world`s best boyfriend.love the name biannca to, think it means white. MUST SEE!!