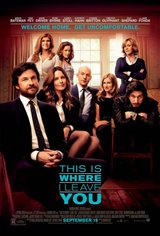 This Is Where I Leave You
This Is Where I Leave You
When Judd Altman's (Jason Bateman) father dies, the family comes together for the first time in years. However, Judd's wife, who's having an affair, is noticeably absent.
Judd, grieving for his father and his marriage, joins his dysfunctional non-practicing Jewish family as they fulfill his father's final wish and sit Shivah together, spending seven days and nights under the same roof, during which time secrets are revealed, longtime grudges come to the forefront and old passions are rekindled.
Based on the novel by Jonathan Tropper.
| | |
| --- | --- |
| Cast: | Jason Bateman, Tina Fey, Adam Driver, Rose Byrne, Corey Stoll, Kathryn Hahn, Connie Britton, Timothy Olyphant, Dax Shepard, Jane Fonda |
| Director: | Shawn Levy |
| Studio: | Warner Bros. Pictures |
| Producer(s): | Paula Weinstein, Jeff Levine |
| Writer(s): | Jonathan Tropper |