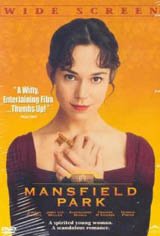 Mansfield Park
This film is a witty look at romance and reality—Jane Austen-style. Fanny Price, 10, is shipped from her rundown rat-infested home in Portsmouth to live with her wealthy relatives in Mansfield Park. While growing up, the richer relations give constant reminders that they have every advantage over her. The only moments of kindness comes from Edmund, who shares Fanny's love for dreams and story telling.
Fanny records her amusing insights, deep feelings and sharp intelligence into secret letters, journals and other writings that are drawn directly from Jane Austen's teenage writing, sharing them only with Edmund. ­A mirror image of Jane Austen's life, Fanny is addicted to free self-expression and becomes a writer.
The grown up Fanny (Frances O'Connor) is alluring, vital and with a tongue as sharp as a knife. As Fanny becomes the must-have object of a modern-thinking, dangerously charming Henry Crawford (Alessandro Nivola), her status is radically uplifted. Suddenly, society takes notice of her and she learns to use her influence.