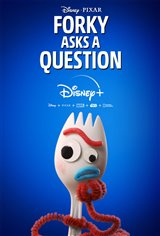 Forky Asks A Question (Disney+)
Forky Asks A Question (Disney+)
Each of these 10 hilarious shorts is three minutes long, just enough for Forky (voiced by Tony Hale), who's relatively new to the world, to ask questions that children may wonder about too.
He asks 10 timeless questions such as: What is a friend? What is love? What is time? What is money? And possibly most important of all, What is cheese?
His Toy Story friends, such as piggybank Hamm (John Ratzenberger), plush unicorn Buttercup (Jeff Garlin) and dinosaur Rex (Wallace Shawn), help scatterbrained Forky figure out the answers to these questions.
Click here to sign up for Disney+ and to get the 7-day free trial!