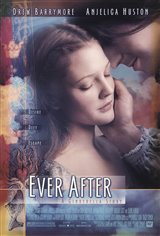 Ever After: A Cinderella Story
Ever After: A Cinderella Story
Danielle (Drew Barrymore) lives a happy existence with her loving father, Auguste (Jeroen Krabbé). When he brings home a new wife, Rodmilla (Anjelica Huston), who has two daughters of her own—Marguerite (Megan Dodds) and Jacqueline (Melanie Lynskey), Danielle does her best to accept them.
However, when her father suddenly dies of a heart attack, her life changes drastically. Her stepmother forces her to become the family servant and her stepsisters make fun of her. When Danielle spots an intruder in their orchard, she pelts apples at him, only to discover he's Prince Henry (Dougray Scott). Her stepmother punishes her for her actions, and doesn't allow her to attend the ball. She also accuses an elderly servant of stealing and has him imprisoned.
Danielle dresses up as a courtier in order to buy him back. Prince Henry spots her and doesn't recognize her from the orchard incident, but is intrigued by her philosophy of how the rich treat the poor. He wants to get to know her better, but as soon as she's accomplished her mission, she disappears. Henry makes it his mission to find her again.
| | |
| --- | --- |
| Cast: | Drew Barrymore, Anjelica Huston, Melanie Lynskey, Dougray Scott, Richard O'Brien, Toby Jones, Megan Dodds, Jeroen Krabbé, Anna Maguire, Patrick Godfrey, Judy Parfitt, Lee Ingleby, Walter Sparrow, Jeanne Moreau, Peter Gunn |
| Director: | Andy Tennant |
| Studio: | Fox Family Films |
| Producer(s): | Kevin Reidy, Mireille Soria, Tracey Trench |
| Writer(s): | Susannah Grant |