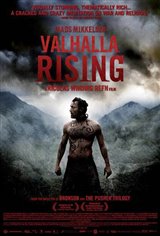 Valhalla Rising
On a desolate coast, the heads of warring clans meet in battle. For years, the most fearsome and successful fighter has been an enigmatic figure known only as One Eye (Mads Mikkelsen).
Silent and lethal, One Eye has defeated everyone he's encountered, but he's treated more like an animal than a warrior. The only person he has any relationship with is the young boy who brings him food and water daily. Constantly caged and shackled, One Eye has drawn the attention of a new force now sweeping the countryside and displacing the society's leaders: Christians.
Determined to claim territory for his faith, the leader of a band of Christians sets sail on an ill-fated odyssey to the Holy Land with One Eye and the young boy in tow. Little separates the Christians from their pagan predecessors—they're just as bellicose and bloodthirsty.
| | |
| --- | --- |
| Cast: | Mads Mikkelsen, Gary Lewis, Ewan Stewart, Andrew Flanagan, Maarten Stevenson, Gary McCormack, Mathew Zajac, Robert Harrison, Stewart Porter, Gordon Brown, Callum Mitchell, Douglas Russell, Rony Bridges, James Ramsey |
| Director: | Nicolas Winding Refn, Nicolas Refn |
| Studio: | One Eye Production |
| Producer(s): | Bo Ehrhardt, Henrik Danstrup |
| Writer(s): | Nicolas Winding Refn, Roy Jacobsen |