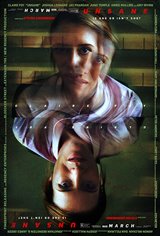 Unsane
| 9 Reviews
Write a Review
In Theaters: March 23, 2018
On DVD/Blu-ray: June 19, 2018
Unsane
Sawyer Valentini (Claire Foy) is being stalked by a man named David (Joshua Leonard). She blocks his number on her cell phone, changes her email address, takes out a restraining order and moves many times to escape him.

She looks into support groups for the victims of stalkers and thinking she's signing papers to become a member of a group at a mental health center, she winds up being involuntarily admitted as a psychiatric patient. Not only that, but she believes her stalker has followed her and is posing as a medical worker to get close to her. The more she insists she's not crazy, the crazier she appears.

Her mother (Amy Irving) tries to get Sawyer released, and even goes so far as to go to the police. As Sawyer continues to see David all around her, she begins to wonder if she actually is crazy.