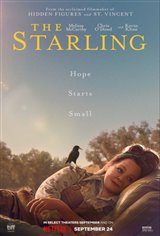 The Starling (Netflix)
Lilly (Melissa McCarthy) and Jack (Chris O'Dowd) are a happy couple, with a baby daughter named Katie. But when they lose her to SIDS, it tears them both up. Chris especially can't cope with the loss and winds up in therapy at a mental health facility.
While visiting Jack, Lilly, who is trying to keep things together at her minimum wage job and maintaining their overrun rural property, is referred to a former colleague of one of the facility's employees to seek her own help. However, when she meets him, it turns out that this former colleague now works as a veterinarian after leaving the mental health field 10 years ago. He comes in handy when a starling who has a nest in her tree decides Lilly is a threat to his hatchlings and attacks her.
| | |
| --- | --- |
| Cast: | Melissa McCarthy, Chris O'Dowd, Kevin Kline, Timothy Olyphant, Daveed Diggs, Skyler Gisondo, Laura Harrier, Rosalind Chao, Kimberly Quinn, Loretta Devine, Ravi Kapoor |
| Director: | Theodore Melfi |
| Studio: | Netflix |
| Producer(s): | Dylan Sellers, Kimberly Quinn, Theodore Melfi |
| Writer(s): | Matt Harris |
| Official Site: | netflix.com/title/81281320 |