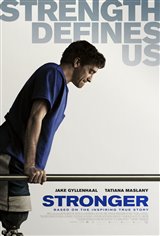 Stronger
| 17 Reviews
Write a Review
In Theaters: September 22, 2017
On DVD/Blu-ray: December 19, 2017
R | Drama | 1h 56m
Stronger
Jeff Bauman (Jake Gyllenhaal) is desperately trying to win back his girlfriend, Erin Hurley (Tatiana Maslany). When she collects money in order to run in the 2013 Boston Marathon, he helps her get support and makes a sign to hold for her at the finish line.

Since Jeff is always either late to everything or a no-show, Erin doesn't expect him to show up. Bombs go off just as she's approaching the finish line, but not until she sees a badly injured Jeff being carried away from the finish line, does she realize he actually was there. 
With his lower legs blown off, Jeff has to go through a long healing process, not just physically but emotionally. Erin discovers that Jeff's family may not always realize what's best for Jeff's recovery and she struggles to be a positive influence in his life, while questioning her role in it. 
Based on the book Stronger by Jeff Bauman and Bret Witter.